! HTML kode & grafik af Anders Lundholm, Metronome Media> <! ? Metronome 1996>

antaZia is a unique Danish multimedia production, with the latest technologies applied. A real Christmass adventure, with music, speech and plenty of funny computer games.

antaZia is Santa's castle where you can go through many rooms by means of 3D computer-graphic technology, the so-called QuickTime Virtual Reality.
very room comes with its own sound and background music. After the 1st December you can click on a lot of objects and get plenty of amusing surprises. On the castle there are 24 different bewitched objects, triggering off 24 astounding and funny computer animations which can be started again and again. To each of the bewitched objects belong a funny, entertaining game.
ach day during the month of December untill Christmass Eve, you get a new animation and a new game. The scenes and objects of Santazia are controlled by the clock installed in your computer. In fact it is exactly like opening the windows of an 'old-fashioned' ordinary advent calendar.


he 24 games are all variations of 7 different funny games, for instance jigzaw puzzles, memory games etc. Together, these 24 games comprise many hours of fabulous entertainment and educating puzzles for small and big brains! If you wish to read about the games, go on from this point.

nteresting Christmas meals from many countries.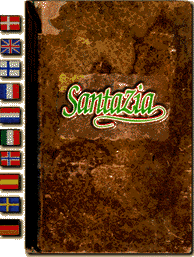 antazia also contains an interactive cookbook with Christmas recipes from 13 countries. You can find everything from the traditional "old-fashioned" Christmas meals to the more refined French Cuisine. The cookbook contains hand-drawn illustrations of the various dishes. You can also make a printout to be used in your kitchen.